Welcome to Artworks by Karen Fincannon!
Thanks so much for visiting my website!

It's my annual June art sale! Starting today, June 1st at 8am, everything in the shop is 10% off with free shipping! The sale lasts until midnight, June 9th.
In addition, my last show of the spring will be June 10th, the Virginia Highlands Summerfest show in the Virginia Highlands neighborhood in Atlanta. This year it is one day only, just that Saturday from 11-7, so mark you calendars to come by rain or shine on June 10th! 
Thanks again for visiting my page!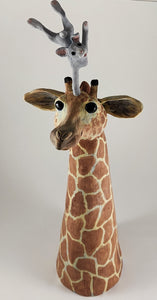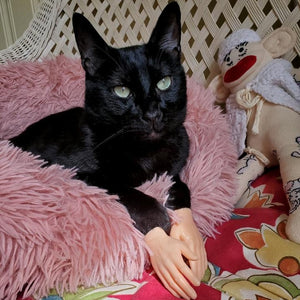 My cat Monkey Bat's gotta hand it to you, you came to the right place!  But besides my website, follow me on Instagram, Facebook, and Pinterest.

Also check out my Art Show Schedule and other places to find my work. I do a lot of custom work as well, send me your pictures and I will make a fat happy animal in return!

Check out this short video showing the process of making a rabbit sculpture. I will be teaching classes in my studio soon, let me know if you are interested in more information.
Thanks again for wandering into my happy, whimsical world!